1703 Andros Isle Apt. G-1/Coconut Creek, Florida 33066/703-772-3587/ArtGiftsEtcGroup@yahoo.com
Award-Winning Art Quilts by Jennifer Wheatley-Wolf!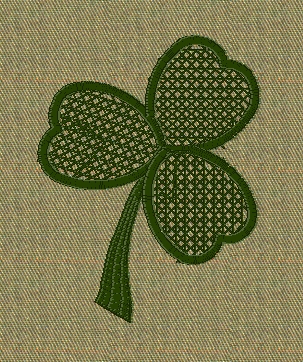 Click Here to Download a FREE Sample of my embroidery!
March Clover in 2 sizes! 2.31in.x 2.98in. and 2.98in. x 3.87in. Enjoy!
All images and Embroidery Files are property of Jennifer. Purchase of designs entitles you to use on any personal items or those you intend to re-sell. Designs themselves belong to Jennifer and are not for re-sale.