1703 Andros Isle Apt.H4/Coconut Creek, Florida 33066/703-772-3587/ArtGiftsEtcGroup@yahoo.com
Award-Winning Art Quilts by Jennifer Wheatley-Wolf!
Asian Secrets
4 1/2 Feet x 5 Feet

This quilt was my 2006 entry into the Hoffman Quilt Quest Contest.
I worked on this quilt at the same time I worked on my Asian Secret quilt. At the time I thought each quilt would come together quicker if I used the same artwork (Clip Art from Design Source Books) so I layed them out side-by-side.
Laying them out was quick, but each quilt sewed out differently. This one gave me trouble from the start. The other was a breeze!
I even had to send my machine in for service just days before the deadline! I had to finish the quilting and sew on the border with my none-to-powerful beginner machine!
I learned my lesson and now I work on them one-at-a-time!

Detail of Border, Hair and Beaded Tassels
The borders I digitizes for this quilt can be found on the Fan Borders Embroidery page.
I digitized Asian redwork designs from my sketches to use as quilt stitches.
I scattered the orchids, peacocks,dragons and Asian symbols throughout the background and then free-style quilted around these stitch-outs.
The red-work quilt designs can be found on the Redwork Embroidery pages of my site.
I made the flowers for her hair by sewing together silk fabric petals and then sewing them into place.


Detail of Peacock Fan
The peacock and feathers I used created for the fan Birds Embroidery page of my Embroidery Designs!

I stitched the feathers onto tulle and then sewed them into place.
Because my Viking had to go in for service, I was unable to sew the hand down smoother. My beginner machine just didn't have the power to do the job.


Hoffman Winners and Traveling Quilts
2007 Road to California Show
My father, stepmother and sister-in-law at the 2007 Road to California Show with my Quilt!
I hardly ever get to go to all the fun places my quilts are displayed. It's nice to have family who takes photos for me when they can!


Road to California 2007 Hoffman Display
That's me!

Asian Secrets
4 1/2 Feet x 5 Feet

Hoffman Quilt Quest Contest 2006
Design size is 4 1/2 Feet x 5 Feet
This quilt traveled with the winners.



$3,500


Quilts created by Jennifer Wheatley-Wolf. Images owned by the artist used with permission only!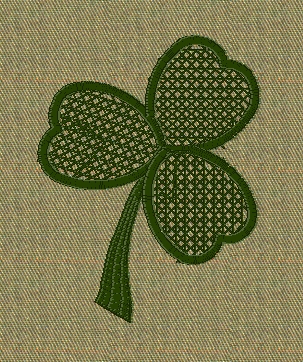 Click Here to Download a FREE Sample of my embroidery!
March Clover in 2 sizes! 2.31in.x 2.98in. and 2.98in. x 3.87in. Enjoy!
All images and Embroidery Files are property of Jennifer. Purchase of designs entitles you to use on any personal items or those you intend to re-sell. Designs themselves belong to Jennifer and are not for re-sale.