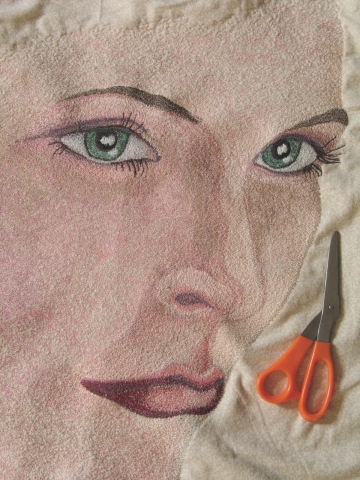 5 1/2 feet x 4 feet
Winner in the Embellishment Catagory of the $100,000 Quilting Contest 2007
This quilt was selected as one of the quilts featured in the Lark Books paperback
'500 ART QUILTS'
Out of thousands of entries, 363 different quilters were selected for this publication. You can Order Your Copy through Amazon by Clicking Here!


I started this quilt out of frustration with my newly acquired Viking Designer 1 embroidery and sewing machine. The budget didn't allow for the total software package, but this sewing machine had the reader-writer embroidery software installed so I was able to stitch-out any written files. I was so excited to have the ability to stitch out programed embroidery, I jumped right into it right after I read my manual! Three or 4 destroyed T-shirts later, I was completely frustrated and angry.
I was sure it was going to be impossible for me to get something to stitch-out correcty and I began to think back on the words spoken by the gal who sold the machine to me..."You can do the embroidery without the 3-D software. All the stitches are in there."

This got me to thinking that with a few different colors of threads and a sketch to start with, I should be able to embroidery something without the troubles I was having with the programmed files and hoops!

With a sketch of a womans face in hand I picked out a neutral flannel fabric, pinned the sketch to it, threaded my machine with a light-colored thread and started to outline the main features of the face. By the time I had all the important lines 'drawn' with thread, my paper was beginning to shread and eventually, it just fell to pieces. I didn't really need it because now I was 'painting' with my threads.
What I didn't know, being new to the sewing, quilting and machine embroidery world, was that there are special papers and stabilizers developed for almost every application. I really should have used the wash-away paper and stabilizer for this experiment. But, I didn't know any better! Instead I drew the face on a couple of pieces of computer paper and started sewing on 3 or 4 layers of flannel! I was picking paper out from under my stitches for months!
I thought that my programmed embroideries were not working because I didn't have a thick enough backing on my shirts. I now know (a couple of years later) that this isn't the case. Additionally, I didn't need such a thick blanket of flannel to stitch on. In fact, by using so many layers, I was forced to stitch over pretty much the entire surface to get a smooth finished surface.

When I first began to add color to the cheeks, my husband made the comment "It looks like she has some kind of skin disease!". He was right! Because of the density of the flannel, the stitches created what looked like tiny trapunto pockets where there was no thread. In order to smooth-out the surface, I had to add the stitches very close together. This was ok visually, but makes the face very stiff.

When I finished stitching the face in about a week, I opted not to stitch-out any more of the forehead partly because I knew it would take another week and also at that point I had no idea what I was going to do with this large embroidery! I started laying down bits of fabric that would serve as her hair and in about 8 months, I had a design I liked!

My next embroidered face will be on tulle or transparent netting with a couple of layers of vilene. This will allow me to sew the face onto a fabric that will blend in with the thread colors I choose and since the Vilene washes out, the whole piece will be soft and flexable!

This being my 'learning quilt', I made quite a few choices in the 'how-to-get-this-sewn-together' department that led to quite a few re-do's.

Early Stages

I was determined to finish this piece, and with the help from books,internet,friends and family, I sorted out the design issues and sewing problems and saw it through to the end. But at no time during the year-long process did I ever dream it was going to be a contender for the grand prize in the $100,000 Quilting Contest. I have to thank Kathie Kneff for introducing me to the contest and to all my friends and family for their encouragement!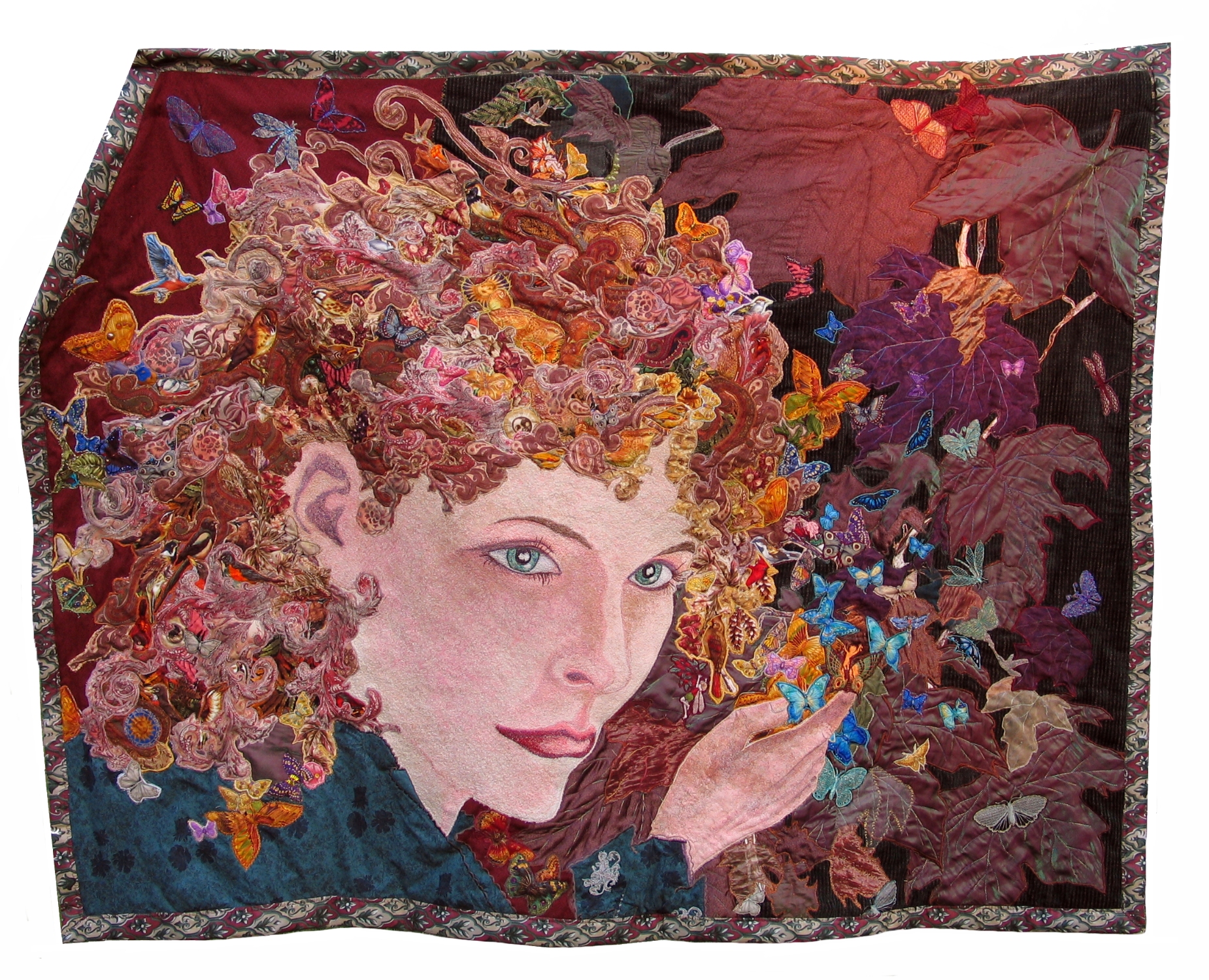 INSPIRATION!
There was an Old Man with a beard,
Who said, "It is just as I feared!
Two Owls and a Hen,
Four Larks and a Wren,
Have all built their nests in my beard!"

by Edward Lear


APPROACHING WINTER
5 1/2 feet x 4 feet

Free Motion Thread Painting
Design size is 5 1/2 feet x 4 feet
Finalist in the $100,000 Quilting Challenge



$20,000


Quilts created by Jennifer Wheatley-Wolf. Images owned by the artist used with permission only!