1703 Andros Isle Apt.H-4/Coconut Creek, Florida 33066/703-772-3587/ArtGiftsEtcGroup@yahoo.com
Award-Winning Art Quilts by Jennifer Wheatley-Wolf!
Dragon Pinwheel Quilt

Detail of Pinwheels
7 Feet x 6 Feet

After I discovered Paula Nadelsterns kaleidoscope quilts, I knew I had to try it for myself!
I had only been sewing for about 1 year and this was only my 3rd or 4th quilt. But, I figured I could make it work.

Detail of Fabric
One of the problems I encountered with this quilt was not getting my points to line up.
I love to mix fabrics for different textures. However, on this quilt, one I choose was a stretchy cloth.
Because it tended to shift when it was sewn, the points didn't line up and my pinwheels were not perfect.

Alexander Henry Dragons
I loved this fabric! This was the first time I used an existing design on the cloth as a guide for my quilting lines.
I hand-stitched with gold metallic thread around each dragon on the side panels to finish this part of the quilt.


Finished Dragon Quilt

Since my pinwheels did not turn out as well as I had hoped, I shied away from piecing the edges of this quilt
Instead, I sewed a long panel down each side and flipped the backing fabric to the front to finish the edge

Dragon Quilt
7 Feet x 6 Feet

This quilt has been sold
Quilts created by Jennifer Wheatley-Wolf. Images owned by the artist used with permission only!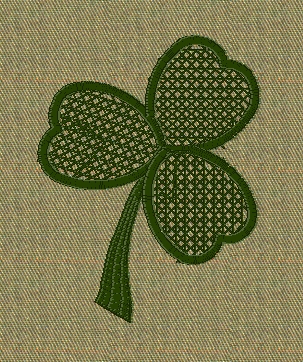 Click Here to Download a FREE Sample of my embroidery!
March Clover in 2 sizes! 2.31in.x 2.98in. and 2.98in. x 3.87in. Enjoy!
All images and Embroidery Files are property of Jennifer. Purchase of designs entitles you to use on any personal items or those you intend to re-sell. Designs themselves belong to Jennifer and are not for re-sale.