1703 Andros Isle Apt.H-4/Coconut Creek, Florida 33066/703-772-3587/ArtGiftsEtcGroup@yahoo.com
Award-Winning Art Quilts by Jennifer Wheatley-Wolf!


Nouveau Bargello
5 1/2 Feet x 4 1/2 Feet

Two Mirror Image Quilt Tops Side-by-Side
I love the Bargello Quilts. I am fascinated by the movement that can be achieved through placement of fabrics.
I had been sewing for just over a year when I decided to try making this style quilt. This being my first attempt at this type of quilting, I wasn't very adventurous with my pattern.

I was more concerned with getting my seams to line up than I was with creating something exotic!
I ended up with two panels that are the reverse of each other. The overall length of these side-by-side was well over 10 feet, but under 5!

Gold and Green Panel
I decided not to sew the two panels together. Opting instead to make 2 smaller quilts in opposing color schemes. The center of one panel is the outside of the other.



Blue and Cream Panel

I chose fabrics for this quilt that complemented each other. One stripe had some of the adjascent stripes color in the pattern somewhere.
I love sage and turquoise and had lots of them in my stash to choose from.
Although both panels used the same fabric, the concentration of colors on each makes both panels very different!

Fabrics

Cut long stips and sewing them together lengthwise. Then when you have as many strips as you want, sew the first and last together. You should have a sleeve.
Cut strips off the end and various widths and open the tube where you want the top and bottom to be.
This opened seam will advance through the colors depending upon the design you come up with.
Of all the pieced quilts I made, I enjoyed this one the most. Because the number of fabrics used can be endless and the designs achieved are limitless, I will probably try this again!
Nouveau Bargello
5 1/2 Feet x 4 1/2 Feet

This quilt has been sold

Quilts created by Jennifer Wheatley-Wolf. Images owned by the artist used with permission only!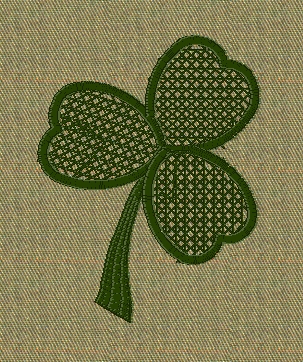 Click Here to Download a FREE Sample of my embroidery!
March Clover in 2 sizes! 2.31in.x 2.98in. and 2.98in. x 3.87in. Enjoy!
All images and Embroidery Files are property of Jennifer. Purchase of designs entitles you to use on any personal items or those you intend to re-sell. Designs themselves belong to Jennifer and are not for re-sale.