1703 Andros Isle Apt.H4/Coconut Creek, Florida 33066/703-772-3587/ArtGiftsEtcGroup@yahoo.com
Award-Winning Art Quilts by Jennifer Wheatley-Wolf!
Da Hong Pao (Big Red Robe)
5 1/2 Feet x 3 Feet

This quilt was my 2006 entry into the Kaufman Quilt Contest.
This quilt catches a glimpse of a Geishia squatting perhaps getting ready to fix a pot of tea but she has been interrupted by something and has turned her head toward the sound she hears.
This time I cut the figure from it's first anchoring cloth and positioned it onto a new background while allowing the bottom of the robe to fall below the bottom edge of the quilt. The figure is positioned in a narrow space and appears to be ready to spring up onto her feet at any second.
All of these elements create a tension that make us pause and wonder what has disturbed her.


Detail of Machine Embroidered Face
I drew the figure, scanned the drawing and printed it out lifesize. I then created a sort of pattern from this enlargement by tracing the larger forms onto a tissue paper and then cutting these shapes from the fabric. I cut all the pieces larger so the overlap allows for easy satin stitching.

This was the first time I used Tulle to create a shaded area on a cotton print. I also used Tulle over the hand that was cut from Taffeta and was causing trouble by fraying at the edges.
Beads and fabric chopsticks adorn the geishia's hair.

Looking at this photo in hind-sight, I really like the figure as it is. I have on the back burner an idea to create quilted Geishia Women in their elaborite kimono's as cut out figures.


Detail of Face and Hair
The face I digitizes for this quilt can be found on the Figures Embroidery page.
I stitched the face onto a Taffeta and left enough extra fabric around so I could applique the hair and robe into place
I made her hair from black silk with batting under the cloth to give it some dimension.

Detail of Da Hong Pao
2006 Kaufman Challenge Contest traveler
When all the pieces were satin-stitched into place, I fussy-cut a border from an embroidered piece of fabric and sewed it into place.
I also cut some strips of the same cloth and created the window grid behind the figure. I quilted this piece by 'drawing' a cherry tree into the background fabric with matching stitches.

I had planned to stitch out a border for this quilt, but I ran out of time.
The borders I digitized can be found on the Swirl Border Embroidery page of my site.


Da Hong Pao
5 1/2 Feet x 3 Feet

Kaufman Quilt Quest Contest 2006
Quilt size is 5 1/2 Feet x 3 Feet
This quilt traveled with the winners.



$4,000


Quilts created by Jennifer Wheatley-Wolf. Images owned by the artist used with permission only!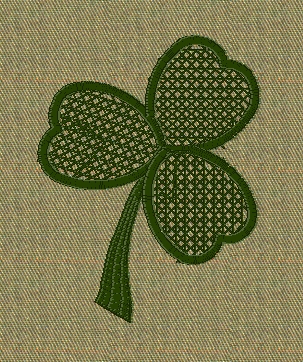 Click Here to Download a FREE Sample of my embroidery!
March Clover in 2 sizes! 2.31in.x 2.98in. and 2.98in. x 3.87in. Enjoy!
All images and Embroidery Files are property of Jennifer. Purchase of designs entitles you to use on any personal items or those you intend to re-sell. Designs themselves belong to Jennifer and are not for re-sale.