Venetian Disguise
Step-by-Step
This particular quilt is a great example of how being flexable with an idea can work to your advantage. I had originally intended to use the painted face in this quilt in the Quest-for-a-Cure quilt contest. I had the design drawn out, face painted and ready & when I received the required fabrics in the mail I knew it was never going to happen. I liked the fabrics, don't get me wrong. I just hated them with the face. They were bright almost stained-glass bold and this portrait is quiet and soft. I spent two weeks cutting up the cloth and sewing it back together again in many different ways all in a vain attempt to tone it down. I couldn't do it.

I had already entered Approaching Winter into the $100,000 Quilting Challenge and had not expected to win. So I began to think that maybe I could make my original design work using my own fabrics and enter it in the 3rd or 4th quarter of the challenge. And, that's where I started. I did get the whole design cut and laid out with appliques cleanly sewn onto iron-on interfacing. After about 2 months of work I was ready to start sewing all the pieces into place. But, I didn't. I looked at it objectively & deceided it was both boring and confusing. Without it being entered into the Quest-for-the-Cure contest, it just didn't make much sense & it didn't have much of a story to tell. So, frustrated, I scraped this idea too & started all over...again!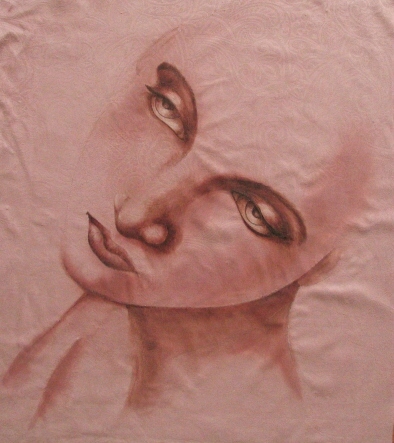 After 2 false starts and a couple of months of attempting to make an idea work, I began to think back to when I had begun with the painting of the woman's face. Before I painted the entire face, I did a practice painting on a small bit of the cloth I had selected. Wanting to see how the acrylic paint would look on the sueded fabric, I had painted a detailed eye. Seeing that all was well I proceeded to paint the entire face. But, I still had the eye and maybe I could develop an idea using this single eye as an inspiration! My husband suggested a peep-hole or key hole. I liked the ideas and began to thinking about a design

One thought worked with the next and eventually I came up with the idea of making a mask using the eye and saving the face for something else. I took two pieces of tulle and a layer of water-soluable stabilizer, lots of transparent silks, netting and tons of thread & sat down at my sewing machine. In about 2 days I could see that my idea to create a mask was going to work, but why just make a mask for the single eye? Why not make the mask big enough to be used on the face? This was the beginning Venetian Disguise!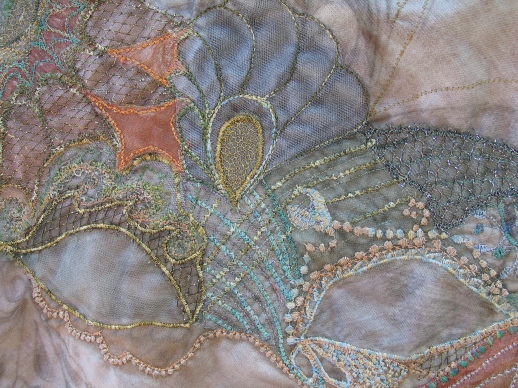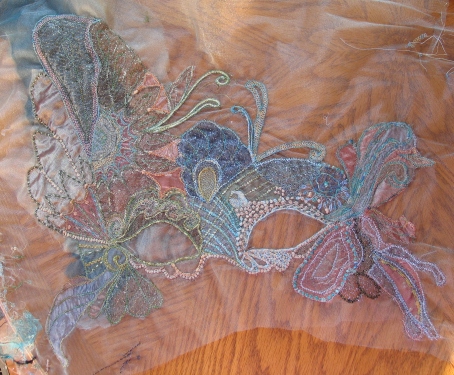 Venetian Disguise Mask
After painting the face, I made a mask to fit.
Click
Here to see a Larger Image